Betty Ann, 47, Whittier, CA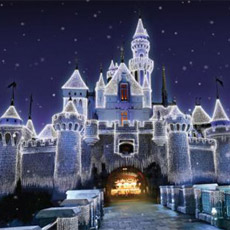 When is
Disneyland
even more magical than it is every day with its princesses, castles, Fairies, fireworks, and mystical mountain range? When you see it by candlelight!
One day, my church choir director announced that we were auditioning for Disneyland's Christmas Candlelight Processional. Even though I had never heard of this "Candlelight" thing before, it combined three of my favorite things: singing, Christmas, and Disneyland.
We passed the audition, memorized all the music, and before I knew it, the day had arrived. After spending hours practicing, I found myself processing through the Magic Kingdom after dark in formation with hundreds of fellow choristers. Singing jubilantly and holding my candle aloft, it dawned on me: "I am a Disneyland spectacle! People are looking at ME with rapt attention while I walk down Main Street! And I'm not even a princess! Wow!"