Christopher P., Sr. Staff Writer, Disney Online Studios, North Hollywood, CA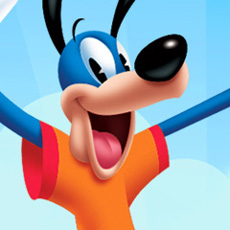 Driving through the desert, I'm a cartoon pig throwing pies at robots with my nephew, who is a cartoon dog ... hundreds of miles away. It may sound ridiculous, but that's the point – after all, this is Toontown!
My wife is at the wheel of the car, and we're heading home to Los Angeles. I'm in the passenger seat on our mobile laptop, playing
Toontown Online
with my nephew Hunter, age 10, who we parted company with hours ago back in Phoenix. Hunter and I had been playing Toontown together for the past two days, throwing pies at evil robot Cogs, racing karts, dueling on the mini-golf course, and playing Trolley games. When it came time for my wife and I to leave, Hunter and I didn't want to stop – and since Toontown is an online virtual world, we didn't have to. As my wife and I cruised down the highway, Hunter and I continued our fun, just like when we were together. And though we fought side-by-side against the Cogs, when it came to kart racing, he beat me handily. This is probably why, even though I work on the game, he has more Laff points than me.
Hunter and I still get together online to play, but there's been one big change – now we're joined by my wife and our niece Skyler, Hunter's sister, a family reunion of cartoon animals. It's a great way to keep in touch, because as we all know, the family that throws pies at evil robots together stays together!