Marilyn, 77, Germantown, TN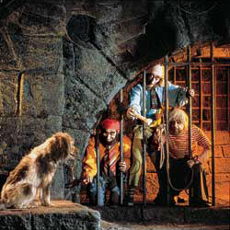 Last year my family (six adults and four children) took a trip to
Disney World
for Halloween. At night, we all attended the Park's special Halloween party. Everyone wanted to go on Pirates of the Carribbean, but half-way through the ride, all the lights went out and the boats stopped!
A few minutes later, we heard singing and saw light. It was the Cast Members who worked the ride – they wore high boots and were carrying candles while singing pirate songs, talking to the kids, and pushing the boats back to the exits.
The lights were still out when we arrived at the exits, so our Cast Member led us to the main Park – as he continued singing and telling stories. When the lights came on, he gave us all FASTpass tickets for the rest of the night. We had a wonderful time and my great-grand kid asked if we could do it again. Only Disney could make Halloween such a special time that all the kids still talk about!