Frank, 45, Palm Springs, CA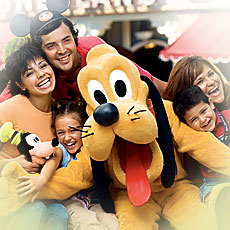 I was a Cast Member working at the
Disneyland
parking lot during the early 1980s. One night while operating a tram that was leaving the Park to return Guests to their cars, things started running very slowly. I had already gone through the safety spiel a few times, and everyone was getting bored and restless.
Realizing a lunar eclipse was occurring, I decided to amuse the Guests with an impromptu announcement over the loudspeaker. "Ladies and gentlemen, boys and girls! For your enjoyment, Disneyland has provided you with this lunar eclipse," I said while pointing to the sky.
Several Guests just laughed at my joke but, after a full day of Disney magic, some of them thought Disney could do anything – I had more than a few Guests asking how Disneyland did it!