Michelle, 23, Santa Rosa, CA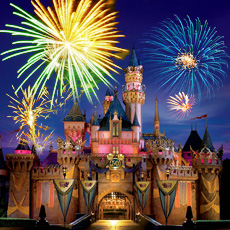 In April of 2008, I celebrated my 21st birthday. I had been to
Disneyland
many times, and since I'm a huge Disney fan, my parents wanted to make my 21st birthday special and we planned a trip to Walt Disney World!
Just being there was amazing enough. We stayed in a beautiful Contemporary Resort Hotel room, complete with a balcony and a perfect view of the Magic Kingdom, where we watched the fireworks display many times. We visited all of the Parks, took in all the shows, and ate at so many amazing restaurants. On my birthday we ate at Cinderella's Royal Table – the restaurant in the castle itself!
I felt like a princess and was having the best time of my life. Thinking that the trip itself was the most special birthday gift EVER, I wasn't expecting anything else. Little did I know, my parents had a huge surprise in store for me.

After we finished eating dinner, someone from the restaurant came over to our table and started talking with my family and asking if we were having a good time. While we were talking with the man, our waitress came out singing Happy Birthday with a special dessert that my parents had secretly ordered. It was a chocolate mold of Cinderella's glass slipper filled with chocolate mousse, which sat on a slice of angel-food cake with strawberries and blueberries all over! Even the plate had "Happy Birthday Michelle" written around the edge in chocolate.

After the shock wore off, I noticed a ring box on the table. When I opened it, I was overwhelmed to see a stunning diamond ring. I started to cry because I was so happy. I couldn't believe they pulled off such a huge surprise. Thank you so much Cinderella's Royal Table, everyone at Disney, and Mom, Dad, and Joseph for making my birthday so special. It's one I will never forget!