CJ, 58, San Clemente, CA
I can remember going to
Disneyland
for the first time around age six. Wearing my coonskin cap, I was selected to lead the band down Main Street, U.S.A. What an everlasting wow!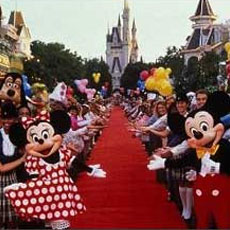 My family, with Grandma and Grandpa, saved and planned every year and returned on the third Wednesday of August every year from 1956. The excitement bubbled and exploded as the time grew nearer. It was easier to sleep the night before Christmas, than the night before Disneyland. It was a day the whole family spent together, something that never happened unless we were going to Disneyland. Quality time, enjoying each other's company, sharing each other's joy. Breakfast at Aunt Jemima's, dreaming and hiking on Tom Sawyer's Island. And, oh, those Autopia cars, getting to drive a car ... another wow. Each ride had its own memory, each Land its own experience with the family.
Then in the 1980s it was my time to be the mom, and take my kids to the Happiest Place on Earth. The excitement of taking them was as big and bold as it was when I was a kid. And the dream never got old, the experience never died.
Today my grandparents have passed on – my mom too. Nobody lives in the same home, not even in the same neighborhood. Disneyland remains the only place I can visit to relive the wonderful memories of my childhood. To smell the smells, and touch the places where we all had such good and endearing times together. When I miss them, I don't visit a cemetery, I visit Disneyland. It still brings a smile to my face, and I still get that twinge of excitement as I enter the Happiest Place on Earth. Thanks Disneyland!