Eva, 48, San Jose, CA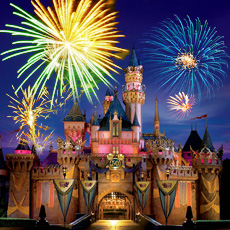 Each year, we travel the 400 or so miles to
Disneyland
to witness the holiday magic. This past visit in 2008 was a particularly special time. This year in attendance were my husband and me, our 26-year-old daughter, our son age 19, and Nathaniel - our 5-year-old grandson. Also along were my brother, and my sister's family — her four daughters aged 12 - 21, her husband Jay, and his nurse.
Jay has ALS. His muscles are atrophying, and his abilities are so very limited now. He is on a ventilator and confined to a wheelchair. He will most likely never make it back to Disneyland again.
We scoped out a great spot for fireworks viewing right in front of the castle with our entire family. Jay asked for my grandson Nathaniel to be placed on his lap. We carefully placed Nathaniel on the arm of Jay's wheelchair, draping his legs across Jay's lap. Nathaniel was amazingly compliant, and totally entranced by the fireworks display from his special seat.
Jay watched the fireworks, and he began to weep. Then he caught sight of Nathaniel's delighted reactions to the spectacular beauty, and a smile would break through. Nathaniel turned around and saw Jay's tears, and he patted Jay on the chest and then touched his face. For my sister and I, this was THE memory of 2008. This was the defining moment that marked the magic of Disneyland for us. The connection between this man and this child on this spot in this moment will forever be cherished by all who witnessed it.