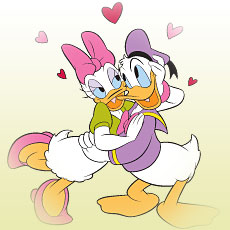 Brandon, 22, Binghamton, NY
My family has visited
Walt Disney World
four times and loved every second. On the fifth trip, something special happened that trumps all the previous trips combined. In July 2007, we went for seven days and invited my fiancée to come along with us. I had already proposed to her the year before, but without an engagement ring. Two days prior to the trip, my mother gave me the engagement ring that my dad had given her 27 years ago.
We all took the train down from upstate New York. My fiancée slept in the chair next to me, while the engagement ring was safe in my pocket. We arrived in Orlando, Florida, 27 hours later and made our way to the hotel. That same evening we went to
Magic Kingdom
to ride a few of the attractions and watch the fireworks show.
During the first few blasts of fireworks, I held my fiancée's left hand while removing the ring (still in its box) from my pocket. Her eyes were already sparkling from the flashes of color and light in the sky. When I opened the box to show her the ring, her eyes magically lit up even more as I slipped the engagement ring onto her finger. We'll be married in 66 days!