Rachel, 29, Joplin, MO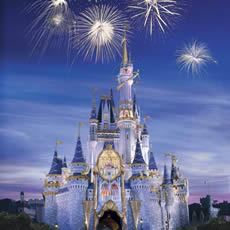 In 2007, my Mom and I decided to take a trip, just the two of us, to
Walt Disney World Resort
. It had been a good 10 years since I'd last been there, but it seemed like so much longer. When she confirmed that the trip was booked, I could hardly believe my luck.
We met at the Wilderness Lodge since I was away at school at the time and lived in a different state. The trip seemed to have pixie dust sprinkled all over it. Mom and I had a wonderful room that faced the lobby of the lodge. Landing a prime table at the Rose and Crown was perfect for watching the fireworks at
Epcot
, but the best was booking lunch at Liberty Tavern. (One of our goals was showing as much appreciation toward the staff as possible – we loved what Disney employees did for us and noticed that some people never acknowledged their extra efforts.)
After chatting with the Liberty Tavern's lovely hostesses, we waited for our table. A few minutes later, they called us over and asked if we'd like to open the tavern for the day. Of course, we were totally surprised, excited, and honored to open the Tavern. It was truly a momenteous trip, a time for Mom and I to bond and make magical Disney memories – hopefully with more to come!