Marleine, 34, Los Angeles, CA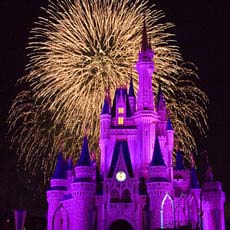 My dear friend Christopher Lango was, without exception, the proudest and most endearing Disney fan I believe I have ever met. He first rode the
Disneyland
Railroad when he was just a little boy. From that magic moment, he set his sights on becoming a part of the Disney experience as soon as he was able.
His first job with Disney was, in fact, as the conductor on the very same train he rode as a child. A prominent singer in his church choir, Chris eventually performed in various Park shows, his dreams reaching ever higher with each new achievement within the Disney family. Chris' most notable fantasy was to design his own Disney Park attraction -- something he was working toward when he passed away unexpectedly at the age of 41.
Given Chris' unyielding enthusiasm for life and infectiously childlike belief in magic, the people who loved him could find no better way to honor his memory than to host a memorial at his favorite place on Earth. So, in August of 2006, Chris' family and friends gathered at Disneyland Park for a day of celebration -- some of them enjoying the Park for the first time -- and despite the sorrow of the occasion, none of us could escape the inherent joy in the experience.
Undeniably, Chris made his presence known, from the glorious weather, to our inexplicable desire for his favorite cinnamon candies from the sweet shop on Main Street, to the spectacular fireworks display that sealed the night. No other tribute could have delivered the bittersweet closure we all felt at the end of the day.
As a final gesture, we contributed a commemorative brick in Chris' name, now paved with scores of others at the entrance of Disneyland Park, to ensure that Chris would become an indelible part of Disney's magical history as he had always hoped. We know he would have loved it.