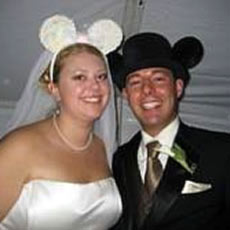 Who knew work and a first visit to Disney could be one of the most magical times in one's life? I had no idea what was about to happen, but my now husband Tim had every idea.
As the Happiest Place on Earth is also in Orlando, I decided to spend some of my vacation time with my boyfriend Tim, who had never been to Disney World. I was excited to let him see why I loved Disney so much. Excitement got the best of us and we planned a week's vacation for the fall, our favorite time of year.
We were able to spend the entire week enjoying all of the parks, Mickey's Not-So-Scary Halloween, and Epcot's International Food & Wine Festival. It was a full week of walking, laughter, and pure enjoyment. By the last day, we were anxious to kick up our feet and relax.
To my amazement, Tim wasn't so relaxed. After spending the day in Future World, we had worked our way over to the World Showcase to see some of the sights and have dinner in Japan. However, Tim decided that he wanted to go back to Future World and buy some wine from the shop there. I dragged my feet a bit, but then gave in. A debate soon followed (white vs. red, screw cap vs. cork, etc.) before agreeing on red wine with a screw cap. He bought two bottles and we headed back to the World Showcase to watch fireworks before dinner.
Tim then wanted to stop in Germany (he's part German and has a love for the country) to buy wine glasses. Though I put up a good fight (in a bratty kind of way!) about how we didn't need them, he insisted on buying two glasses that he really liked. I gave in, noting that he had to carry all the bags since I didn't understand his last-minute purchases.
After Germany, Tim and I rushed over to Japan to find seats before the fireworks began. The unplanned stops prevented us from finding a great spot, so Tim insisted we sit near the koi pond. I thought it was too far away, but he said the rocks provided enough elevation to see everything. I sat down hoping I'd still be able to see the show's water display.
Tim proceeded to unwrap the new glasses and open a bottle of wine. I thought he was acting crazy! After all, it was the International Food & Wine Festival and if he wanted a glass of wine that badly, he could have walked to the kiosk a few feet away. But he insisted that the wine we bought was perfect for watching fireworks. He poured me a glass but I refused. The brattiness continued ...
After several attempts to have me join in his toast, I finally agreed. The wine was fantastic, as were the fireworks and company. I have to admit I couldn't be a brat any longer and apologized for my mood. We enjoyed the moment, relaxing and loving our surroundings. As I heard clinking in my glass, little did I know that a life-changing moment was right around the corner.
Nearing the end of my drink I saw a shimmer of light and froze. Tim looked at me and I at him. He simply said, "What's that? May I see it? I have something I would like to ask you." I immediately started crying and smiling, while Tim took my beautiful Tiffany engagement ring and got down on one knee. During his proposal, the fireworks went off and all the magic in the world surrounded us. Of course I said yes and we savored our moment together as the show ended.
With all of the emotion, I was unable to eat at the restaurant and asked Tim if we could just cancel the reservations. There were so many phone calls to make! We proceeded to walk through the park, where I was telling anyone and everyone that we just got engaged! I was still crying and people were congratulating us with every step.
As we neared Germany, Tim said that we should just sit down, eat, and make phone calls. So we went to the German food kiosk, where the fantastic Disney staff congratulated us and provided complimentary food and drinks for our celebratory moment. They too were telling everyone in the facility our great news and it felt like we were surrounded by close friends.
I have always loved
Disney World
for all it's worth. But that one magical night, held in the most magical place on earth, changed my life forever. I married my best friend the following year on September 29, 2007, and we honored that special moment with Disney mementos throughout the wedding. For those who didn't notice the subtle details (think hidden Mickeys!), we wore it on our sleeves. Well, more like our heads!
And now? We're living happily ever after, remembering our vacation together!