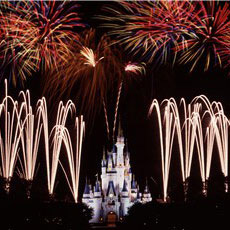 I was excited when my family and I decided to visit
Walt Disney World Resort
for the first time – our vacation was truly magical. We spent two fabulous weeks in Disney World and enjoyed every minute of it! On the last day, we returned to our favorite spot, the Magic Kingdom. As the "Wishes" show was about to start, a Cast Member suggested that we watch the show from Fantasyland. We took his advice and all I can say is "WOW!" ... what a beautiful spot to enjoy such a truly magical show! As the show ended, I became so emotional that the tears just started to flow. When in Disney World, it's impossible not to feel the magic!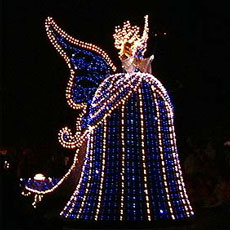 I am from a family of six children and my parents loved Disney. One year they took all of their adult children to
Disney World
as a retirement celebration. All of the little ones stayed home.
Mom and Dad had just one request when we arrived, as they knew that we couldn't all stay together all the time. We were to meet at Frontierland across from Country Bear Jamboree at 8:45, no later. My dad was a colonel in the National Guard, so you knew to be prompt!
Their goal was to have everyone together when we watched the Electric Light Parade for the first time. Of course he pulled it off – we were all there together, their six grown children and their spouses. At the end of the parade he said, "We got just what we wanted – you were all kids again during that parade." To this day those few minutes in time bring tears to my eyes.
Now that our own children are grown and we have little grandchildren we can relate to this feeling. It is one of the reasons we have bought points with the Disney Vacation Club. We love it!
Erica, 34, Jacksonville, FL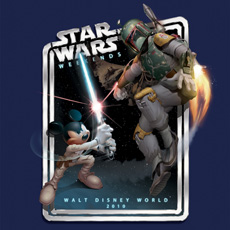 I've been visiting
Walt Disney World
since I was young and am a huge Disney Fan. On May 21, 2010, I celebrated my 34th birthday along with the 30th anniversary of "The Empire Strikes Back." I've been to Disney's Hollywood Studios many times over the years, but this was very different. For starters, there were Tatooine Storm Troopers on top of the welcome gate, acting like they did in the movies. Walking through the Park was also very exciting, and I was just as thrilled as my seven and 11 year-old daughters to see "Star Wars" characters everywhere! Jedi and Imperial troops were walking down the streets ... we even saw Jawas! The parade featured an incredible collection of characters including the 501st Legion. It was amazing! My girls got lightsabers and battled with Cast Members and anyone passing by in costume. My seven year-old refused to leave the Park until she found the perfect "Star Wars" trading pin – Darth Goofy! When I got the tickets a few months prior to our visit, I never imagined that my birthday could be so special. My girls are still humming the music they heard in the Park that incredible day. We'll never forget it!