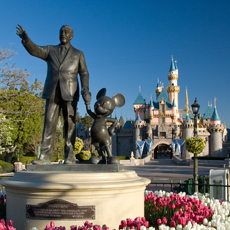 Walt Disney truly had a genius for creating Disney magic but, based on the countless stories the Insider receives each week, our fans keep it alive. Your memories are heartfelt, poignant, and filled with fun. The only problem is, there's not enough space to publish them all. This week it's all about you, our readers ... your vacation highlights, milestone celebrations, and tales of pixie-dust-filled moments. Grab your Mickey ears and enjoy!
Nelia, 58, Corvallis, OR – Disney Volunteers
As the Art Director for the Boys & Girls Club of Corvallis, Oregon, thank you for your volunteer incentive programs. Each spring, my art center is responsible for the annual fund-raiser decorations – it's a big job and the projects are pretty complex. A large number of people volunteered their time this year in order to earn a free
Disney Theme Park
ticket. It was great because we were able to handle lots of details without a hitch, making everything much easier for me. Because of all the wonderful volunteers and interns who helped, we achieved everything I envisioned (26 12-inch embellished houses, 50 detailed paper dolls, and 160 blocks that featured the kids' pictures) AND an enormous level of stress was avoided. Kudos for such a great program ... and a very big thank you to all the people who took time out of their busy schedules to volunteer at the Boys & Girls Club!
Anne Marie, 43, Burnsville, MN – When Pirates Took Over the Jungle Cruise!
Our all-time favorite memory is from our
Walt Disney World
vacation four years ago. Our daughters were six and three at the time and loved "Pirates of the Caribbean." We bought them Mickey Mouse ears with pink pirate bandanas and plastic swords before riding the Jungle Cruise. The cruise guide pretended to be scared of "pirates" and asked if they planned on stealing his boat. He then let Emily steer if she promised not to hijack it. Imagine her delight when she was at the helm of the Jungle Cruise boat. It was the highlight of her trip – and ours!
Deborah, 55, Los Angeles, CA – Little Pocahontas
In 1996, we planned a summer vacation at
Disneyland
with our seven-year-old daughter, Camille, and had an unforgettable week! Pocahontas was Camille's heroine at the time, and she only wanted to wear a one-shoulder dress, moccasins, necklace, and arm bracelet just like her favorite Disney Princess. On day three, Camille was decked out in her Pocahontas costume when we saw the actual Indian Princess in Adventureland. We waited for her autograph but, as luck would have it, Pocahontas' break time arrived just as Camille was next in line. Camille began to tear up, but Daddy came to the rescue. He quietly approached Pocahontas and Meeko before they left and asked if they could stay a minute longer for our daughter. They took one look at Camille (who shyly gave them the "Wingapo" hand sign) and embraced her. Pocahontas asked her name, and then both she and Meeko spent a full five minutes letting us take photos, clowning with Camille, and signing her autograph book. Pocahontas hugged Camille and waved "Annah" ... our little Indian princess looked absolutely awestruck. This was the highlight of our entire vacation! Camille's now a student at musical theater college and pledges to become a Disney Princess someday so she can help others have their "best day ever" at Disneyland.
Robert, 60, Lake Worth, FL – A Magical 82nd Birthday!
We've visited Walt Disney World since it opened in 1971, so it came as no surprise that my mother wanted to celebrate her 82nd birthday at Epcot's Flower & Garden Festival as well as the Magic Kingdom. Each visit to Epcot has always surpassed our last, but this time the Magic Kingdom was the highlight of the trip. From the Dapper Dans' Barber Shop Serenade to Mom dancing with her walker in the Move It, Shake It, Celebrate It! parade, she was treated like a queen. Mom cried in Pixie Hollow when Tink and the Fairies celebrated her special day. We've always known that dreams come true here, but this weekend was our most magical yet!
Jordan, 23, Langhorne, PA – Engaged in Disneyland!
I've been to Walt Disney World too often to count, but never Disneyland. My boyfriend and I travelled to California for our first Disneyland visit over Valentine's Day. We had an amazing experience – he surprised me with dinner at the Blue Bayou, a Cast Member sent us on a trivia hunt and then gave us VIP parade-viewing passes and a Fastpass for Storybookland's Canal Boats. Later that evening, we rode in a boat all by ourselves. When it stopped for the fireworks, my boyfriend got down on one knee, pulled a ring out of his pocket, and proposed. Immediately after I said yes, the fireworks started! As the boat docked, the crowd welcomed us with ringing bells and cheers. I was flabbergasted. I hadn't suspected a thing the entire day ... it just seemed like the usual Disney magic. Disneyland made my engagement the most special and perfect day – one I'll never forget!
David, 46, Valencia, CA – Disney Dreams
When our three kids were young, we'd plan special trips to Walt Disney World Resort each year to escape the cold Chicago weather and experience some famous Disney magic. We currently live in Los Angeles and our kids are now in high school/college. Even though we have annual passes to Disneyland, we still make the trip to Disney World every other year and the entire family always agrees on what we should see while we're there. Though pineapple ice cream at the Tiki Room and laughing at the Jungle Cruise jokes are two Disneyland favorites, nothing tops the coconut broom races at Disney World's Polynesian Resort. My wife and I hope to retire and work at Disney World one day ... our grandkids will love visiting, and we'll share the same happiness we love so much with others.